PAINTING FOR OFFICES IN CT
We are Infinity Painting, the leading provider of professional office building painting services in New Haven, CT. As reputable commercial painters in Connecticut, we take great pride in revitalizing office spaces, leaving a lasting impression on businesses of all sizes. With a team of skilled painters, years of experience, and an unwavering commitment to excellence, we have established ourselves as the go-to choice for transforming work environments.
Whether you need to refresh the exterior or rejuvenate the interior, our experts are ready to bring your vision to life. We will help you select the right color schemes and ensure precise application, resulting in a professional and inviting workspace that suits your unique needs.
We utilize top-of-the-line paints and finishes, guaranteeing flawless, long-lasting results that elevate the aesthetics of your office building. Our solutions are fully customizable, tailored to your preferences, whether you desire a modern, contemporary look or a classic, sophisticated style. Moreover, we take pride in our minimal-disruption approach, working efficiently around your schedule to ensure smooth operations during the painting process.
Are you ready to transform your office space? Contact Infinity Painting today at (833) 724-6828 to schedule a consultation with our expert commercial painters.
PROFESSIONAL OFFICE PAINTING SOLUTIONS
We offer a comprehensive range of professional office painting solutions to elevate your New Haven workspace. As experts in commercial painting, we understand that your office environment plays a crucial role in employee morale, productivity, and the impression you make on clients. With our tailored approach and attention to detail, we are dedicated to delivering exceptional results that meet your unique requirements.
CREATE AN INSPIRING WORKSPACE
Our team of experienced painters knows the art of transforming ordinary office spaces into inspiring and vibrant workplaces. We work closely with you to understand your vision, branding, and aesthetic preferences. Whether you need a fresh coat of paint to brighten up the interior or a complete exterior makeover to improve curb appeal, we have the expertise to bring your ideas to life.
EFFICIENCY AND MINIMAL DISRUPTION
Time is of the essence when it comes to office painting. We recognize the significance of sticking to schedules and delivering results promptly. Our team works efficiently, minimizing disruptions to your daily operations. With our flexible approach, we can accommodate your business hours, weekends, or after-hours to ensure a seamless and hassle-free painting experience.
PREMIUM-QUALITY MATERIALS AND APPLICATION
We use only premium-quality paints, finishes, and materials to achieve exceptional and long-lasting results. Our skilled painters have an eye for detail and employ meticulous techniques to ensure a flawless finish. You can trust our craftsmanship to enhance your office's appearance and provide durability that stands the test of time.
9-YEAR WARRANTY AND FREE TOUCH-UPS FOR LIFE
We offer an industry-leading 9-year warranty on all our office painting projects. We stand behind the quality of our craftsmanship and the premium-quality materials we use, giving you the peace of mind that your office space will maintain its vibrant and professional appearance for years to come. Additionally, we go the extra mile by offering free touch-ups for life, demonstrating our dedication to customer satisfaction and our promise to be there whenever you need us.
INTERIOR AND EXTERIOR OFFICE PAINTING CONTRACTOR
At Infinity Painting, we are your trusted partner for interior and exterior office painting needs. As a specialized office painting contractor in New Haven, we understand that a well-maintained and visually appealing office environment is vital for creating a positive impression on clients and boosting employee morale. With our interior and exterior painting expertise, we offer comprehensive solutions to elevate your office space to new heights.
EXPERT INTERIOR PAINTING SERVICES
Our skilled team of painters excels in transforming the interiors of your office into inviting and inspiring spaces. We understand the impact of colors on productivity and mood, so we offer expert color consultation services to help you select the perfect palette that aligns with your brand identity and fosters a productive work environment. From boardrooms to cubicles, our attention to detail ensures flawless and smooth painting applications that leave a lasting impact.
ENHANCING CURB APPEAL WITH EXTERIOR PAINTING SERVICES
The exterior of your office building is the first thing clients and visitors see. Our expertise in exterior painting allows us to revitalize the facade, providing a fresh and modern look that enhances your curb appeal. With high-quality paints and finishes, we ensure that your office building stands out, making a positive impression on anyone who approaches it.
Every office space is unique and has its own set of requirements and preferences. That's why we take great pride in offering customized office painting solutions tailored to your needs. As experts in commercial painting in New Haven, we are committed to delivering personalized and exceptional results that exceed your expectations.
YOUR VISION, OUR EXPERTISE
In office painting, we believe in making your vision a reality. Our skilled team of painters collaborates closely with you to understand your desired outcomes, branding, and aesthetic preferences. We combine our expertise with your creative vision to craft a workspace that reflects your unique brand identity and fosters a positive and inspiring work environment. With a focus on precision and attention to detail, we are committed to transforming your office space into an aesthetically pleasing and productive setting. Let your ideas take flight as we bring our proficiency and passion to create a workspace that embodies your vision.
OUR OFFICE PAINTING PROCESS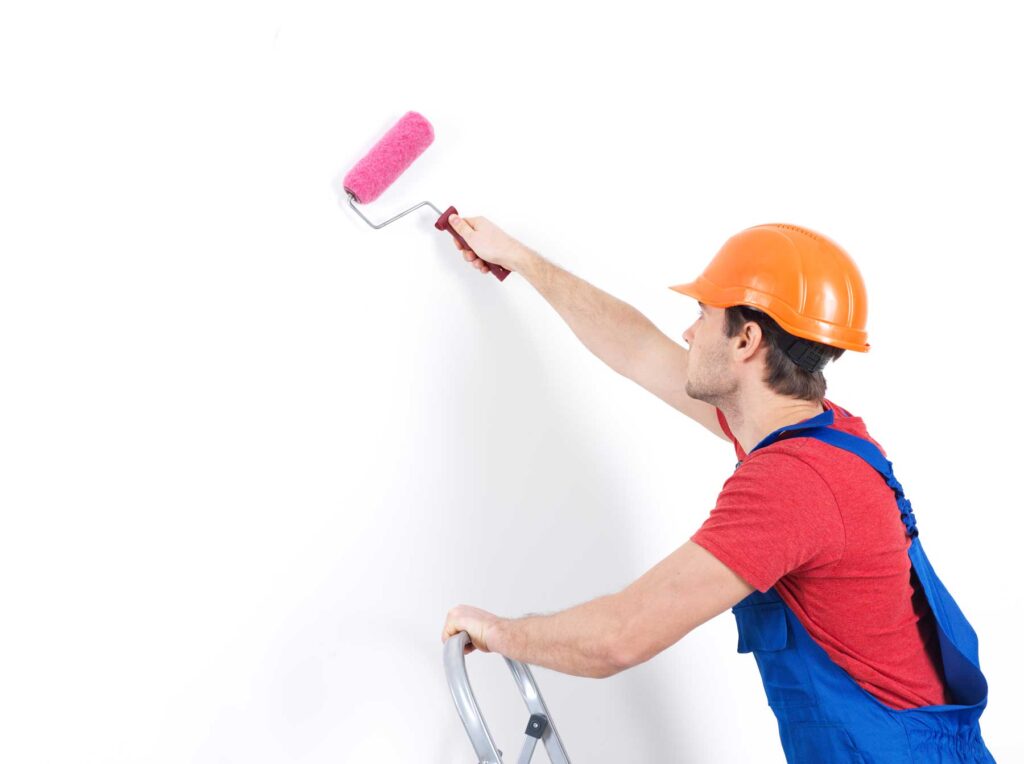 Our commitment to exceptional service starts with a thorough walkthrough of your building. Our team will join you to understand your specific needs, discuss your vision, and address any questions you may have. This step ensures that you clearly understand what to expect once your commercial paint is completed, creating a seamless and stress-free experience.
Once we have a comprehensive understanding of your requirements, we proceed to deliver a detailed estimate and contract. Our customized proposals cover every aspect of the painting project, leaving no room for ambiguity. In most cases, you can sign the contract on the spot, knowing that you are getting a fair price for top-of-the-industry quality and materials. We take pride in offering transparent and competitive pricing, assuring you of our dedication to excellence.
Punctuality is at the core of our service, and you can trust us to uphold our commitments. We value your time and assure you that our team will arrive at the designated time and day without delay or guesswork. No more worrying or wishing that your painter would show up today – with Infinity Painting, reliability and professionalism are guaranteed.
Our office painting process is a testament to our customer-centric approach. From the initial walkthrough to the final brushstroke, we prioritize your satisfaction and strive to deliver a painting experience that exceeds your expectations.
ELEVATE YOUR OFFICE SPACE WITH YOUR LOCAL OFFICE PAINTERS
Unlock the full potential of your office space with our customized office painting solutions in New Haven. Contact Infinity Painting at (833) 724-6828 to discuss your project and schedule a consultation with our experts. Let us help you create an environment that reflects the uniqueness of your business and leaves a lasting positive impact on everyone who walks through your doors.
The most professional painter I have ever hired He is Always on time does a beautiful job and Never leaves you in a mess His work is nothing short of Superior Nobody comes close to the way he carries himself This is why I would recommend him to anyone!
Great service with great pricing, Thank you for helping us renovate our new business offices. everything was good and easy felt very comfortable working with them will definitively be recommending you guys.
Frequently Asked Questions About OFFICE Painting